TusPark Establishes a Point of Contact for IPR Assistance 12330 WorkstationPrint
Post Time:2012-12-05来源:
On December 3, the ceremony for establishing Intellectual Property Rights(IPR) Protection Service Workstation 12330 for the Zhongguancun University Science Park Alliance was held in Vision Hotel. Leaders such as Deputy Director Wang Shuxian with the Beijing Intellectual Property and Vice Director of the Haidian District Meng Jingwei participated in the event. Beijing 12330, Haidian District Intellectual Property Bureau and Zhongguancun University Science Park Alliance signed the "Agreement on Jointly Establishing Zhongguancun University Science Park Alliance 12330 Workstation". Zhang Jinsheng, Senior President Assistant of TusPark Co., Ltd. and General Manager of Beijing TusPark Business Incubation Co., Ltd. also participated in the event and accepted the plaque for Point of Contact for Tsinghua University Science Park (TusPark) 12330 Workstation.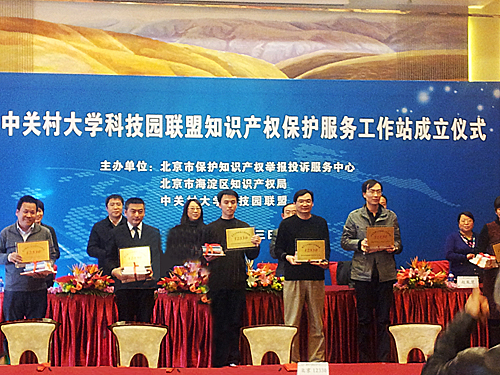 China (Beijing) IPR Protection and Assistance Center (Beijing 12330), or Beijing IPR Complaint Service Center was established in June 2006. It was the only public service agent established by Beijing Municipal Government in Beijing area for receiving complaints on IPR, providing assistance in safeguarding the rights and legal consulting services for IPR. The establishment of the "Point of Contact for 12330 Workstation" jointly with a University Science Park was a successful demonstration of deepened cooperation between Beijing 12330 and University Science Park (Incubator) and its industrial organization.
TusPark has attached great importance to building of IPR service platform and business services. In 2008, TusPark was authorized by the State Intellectual Property Office for establishing one of the first "Exchanging Station for Business Patents". Under the support of Haidian District Management Committee, it established the "Haidian Park IPR Service Platform". Through integrating of resources from private professional agents and industrial associations, it provided comprehensive services on IPR for businesses in the Park, including consulting and agent service for patents, trademarks and copy rights, patent analysis and management software service, IPR strategic consulting service and business IPR managers training service. It also provided allowance for businesses through the platform. Thus, businesses in the Park could have access to one stop services on IPR. In 2011, TusPark was also authorized as a Business IPR Trusted Service Platform under the Beijing Intellectual Property. The establishment of the TusPark Point of Contact for 12330 Workstation would further extend the functions of IPR service platform for the Park, establishing effectively a complete service chain covering patent application, strategic consulting, staff training, and IPR protection assistance.