Chairman Mei Meng Attends the "Boosting Technology Entrepreneurs Plan" Holds in Pudong New Area Print
Post Time:2014-07-03来源:
On the morning of July 3rd, Mei Meng, the chairman of TusHoldings and the director of TusPark Development Center and Zang Ming, the director of TusHolding's Education Development and the president of TusBusiness School, attended and addressed the "Entrepreneurs Innovation Leadership in Pudong New Area" training activity which was organized by the Commission of Science and Technology in Shanghai's Pudong district.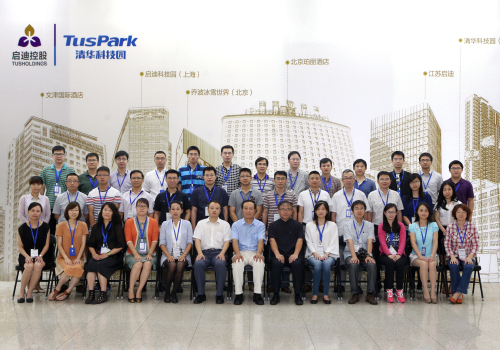 This training activity is the last section of "Boosting Technology Entrepreneurs Plan in Pudong New Area". The activity relied on the incubation association of technology enterprises and technology and finance association in Pudong New Area. This activity aimed to promote the development of technology startups and help the technology entrepreneurs adapt to their roles and transfer from scientists to entrepreneurs as soon as possible and finally elevate the successful rate.

At the opening ceremony, Chairman Mei Meng introduced that the mission of TusPark is to serve the society and promote the transformation of scientific and technological achievements and shared the essence of science and technology service industry with entrepreneurs. When it comes to TusPark's science service "Si Ju" mode, "Congregation, Polymerization, Focalization and Achievement", Mei Meng suggested that science entrepreneurs could analyze their enterprises and industries in "Si Ju" mode.

Then Zang Ming introduced the founding background and development conception of Tus Business School and the mission of the school for Chinese prosperous economy and creating leading entrepreneurs. Meanwhile he encouraged everyone with the college motto "make what you learn useful, make what you know practical".
  
Besides innovation courses and team building, they also arranged TusPark visiting, Shen Quanhong, manager of Tus-Business Incubator communicated with entrepreneurs. The series of activities broadened entrepreneurs'visions, opened their minds and enhanced their science entrepreneurship.