TusStar-ADB Cleantech Startup Competition Launched in BeijingPrint
Post Time:2017-07-07来源:TusHoldings
On July 7, the launching ceremony of the second TusStar-ADB Cleantech Startup Competition jointly organized by TusHoldings and Asian Development Bank (ADB) was held in Garden Lobby of TusPark. ZHAI Yongping, Chief Technical Adviser of Energy Division of ADB, Hebert CHEN, COO of TusHoldings, WEN Hui, Senior Vice President of TusHoldings and Chairman and President of Tus-Clean Energy Group, DUAN Xiumei, Person-in-charge of the Business Center of ADB Project of China National Investment and Guaranty Corporation, and many experts and entrepreneurs from the clean technology field attended this ceremony and discussed the development and innovation path of clean technologies in China.
Scene of the launching ceremony
The first TusStar-ADB Cleantech Startup Competition was fruitful, and the startup teams that won the first three places in that competition, respectively Bluepha, Gaiya Environmental, and CeTech, received continued supports and follow-up from the organizers.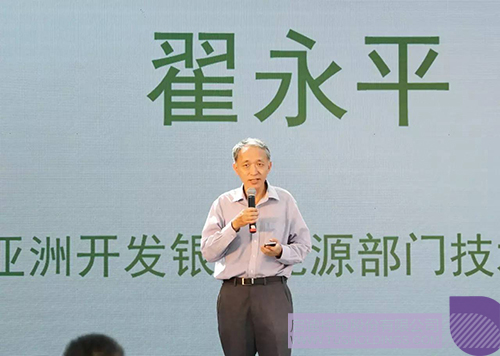 ZHAI Yongping, Chief Technical Adviser of Energy Division of ADB, is giving a speech
This competition will continue to recruit startup projects related to clean technologies all over the country, including projects on energy saving and environmental protection, new energy, new materials, smart city and smart building, intelligent grid and energy storage, sustainable transportation, advanced manufacturing, circular economy, Internet + "cleantech", sharing economy, and so on. Overseas companies that have registered entities, offices, agent partners or Chinese contacts in China can also participate in this competition.
Hebert CHEN, COO of TusHoldings, is giving a speech
The competition will organize an expert team consisting of famous experts in international and domestic clean technology fields and representatives of industrially leading enterprises to give professional appraisal for the participating projects. The project recruitment for this competition will start on July 7, 2017, and online application will be accepted. The competition will engage technical experts and persons from the investment field to provide professional guidance for the participating projects. During the next 6 months, a series of competition processes such as project recruitment, expert appraisal of projects, project training, final roadshow, and subsequent resource bridging will be completed in succession.
This competition aims to build a comprehensive innovation service platform for technical exchange and resource integration, so as to promote and accelerate the growth of the startup enterprises in the field of clean technology.
Extended reading
Established in 1966, Asian Development Bank (ADB) is devoted to mitigating the poverty in the Asia-Pacific region through inclusive economic growth, sustainable environmental development and regional integration. ADB established a climate technology financing center in 2012, aiming to promote the application of low-carbon technologies and climate change adapted technologies and help governments, private enterprises and investors to select advanced and applicable climate technologies. So far, this center has successfully helped 12 developing countries in setting development plans for promotion of clean technology publicity and investment, and has introduced advanced climate technologies and provided technical appraisals for 21 lending projects of ADB. It is devoted to promoting investment in the field of clean technology and assisting startup enterprises in capacity building.