On the afternoon of August 23, an Indonesian senior government official delegation consisting of Darmin Nasution, Coordinating Minister for Economic Affairs, and Rudiantara, Minister of Communication and Information, accompanied by Mr. PENG Gang, Deputy Director of Asian Division of China Ministry of Commerce, paid a visit to TusHoldings for a talk with YANG Bin, Vice President of Tsinghua University, LI Jinliang, Director of International Cooperation and Exchange Department of Tsinghua University, and YUAN Wei, President of TusHoldings. In the future, on the basis of deepened understanding, Tsinghua University, TusHoldings and Indonesia will carry out cooperation, promote economic development in Indonesia and enhance the level of technological innovation for both sides.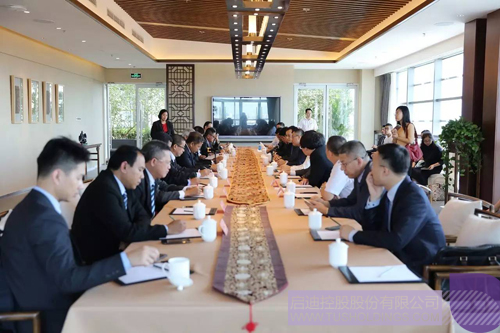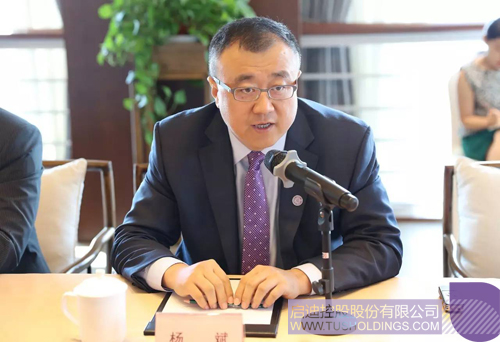 Vice President YANG Bin is delivering a speech.
Prior to his visit, Coordinating Minister Darmin Nasution attended the third meeting of the Sino-Indonesian Summit Economic Dialogue and had a talk with ZHONG Shan, Minister of Commerce of China. At the beginning of the meeting, Vice President YANG Bin extended a warm welcome to the arrival of Coordinating Minister Darmin Nasution and his accompany. Mr. YANG elaborated the basic situation of Tsinghua University, and with the China-Italy Design Innovation Base jointly built by Tsinghua University's GIX School, Tsinghua University and Milan Polytechnic University as an example, discussed the innovation and efforts Tsinghua University had done for the promotion of international exchanges and cooperation. According to YANG Bin, Tsinghua University is world-leading in technology, art design and other aspects and has excellent talents, which are its overwhelming advantages in the field of innovation and entrepreneurship. "Tsinghua University has carried out training programs for Indonesian government officials and student exchange activities with the Indonesian universities. The two sides have a profound basis for cooperation. In the future, we look forward to in-depth cooperation with Indonesia in the field of innovation and entrepreneurship and other fields."
Coordinating Minister Darmin Nasution is delivering a speech.
Coordinating Minister Darmin Nasution thanked Tsinghua University and TusHoldings for their reception. According to him, China has made great achievements in innovation and entrepreneurship. He showed great interest in the innovation and construction of Tus Incubators, TusParks, and Tus-Cities. He said, "Indonesia is focusing on the development of digital economy and financial technology. And we hope to promote the deepening of talent strategy and economic development through exchanges and cooperation with Tsinghua University and TusHoldings. In the future, we would like to build an innovative ecological system with TusHoldings in Indonesia, so as to promote innovation and development."
President YUAN Wei is speaking
President YUAN Wei answered the questions raised by Coordinating Minister Darmin Nasution on the science park. "As a school-run enterprise of Tsinghua University, we are committed to building a unique innovation and entrepreneurial ecological system on the basis of the development of science and technology and integration of resources. The unique 'Trinity' development model of science park, S&T industry and S&T finance has become the important support for building this system." Ms. YUAN said, "After over 20 years of development, we have built more than 100 incubators and over 30 science parks, and established cooperation relations with more than 30 countries, including Canada, the United States and Australia. In the future, we hope to find the fields for mutual in-depth cooperation and include them into the global innovation network of TusHoldings, so as to help with Indonesia's economic development."
Director LI Jinliang is speaking.
Director LI Jinliang, taking Zhongguancun as an example, explained the important role of technological innovation in promoting China's economic development. According to him, China and Indonesia have deep friendship, and cooperation between the two sides has an important impact. Cooperation among Tsinghua University, TusHoldings and Indonesia in the field of technological innovation is an important part of Sino-Indonesian cooperation. "We hope that in the future innovation incubators can connect the islands of Indonesia, and connect Indonesia with China. Our cooperation must be a good start."
Minister Rudiantara is delivering a speech.
According to Minister Rudiantara, education is the right field for cooperation, and with the help of edges of Tsinghua and TusHoldings in academic research and technology applications, there will be cooperation in more aspects. LIN Jian, International Cooperation Director of TusHoldings and Deputy General Manager of TusStar Incubator, elaborated from the eight aspects of politics, industry, academy, research, finance, medium, trade and media the important factors why TusHoldings was able to build the world's largest innovation network. According to him, with the help of the "four in one" incubation model and the "seven-step incubator chain" of TusStar, entrepreneurs and innovative enterprises can grow rapidly. "The very creative innovative service capability and excellent ability to transfer technological achievements is the key for TusHoldings to build a unique ecological network."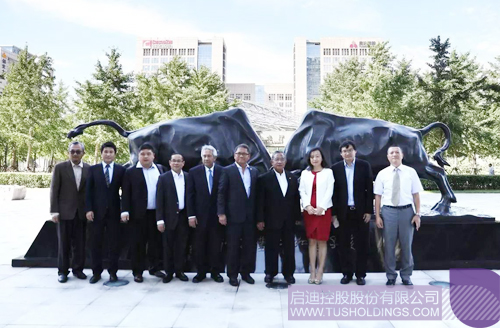 Members of the Indonesian delegation also includes Soegeng Rahardjo, Indonesian Ambassador to China, Rizal Affandil Lukman, Deputy Minister of International Economic Cooperation, Coordinating Ministry for Economic Affairs and other senior officials of the Indonesian government. Mr. ZHANG Jinsheng, Vice President of TusHoldings and Chairman of TusStar Incubator, attended the talk.