TusPark Co., Ltd Is Honored with "Excellent Brand of Independent InnovationPrint
Post Time:2008-05-23来源: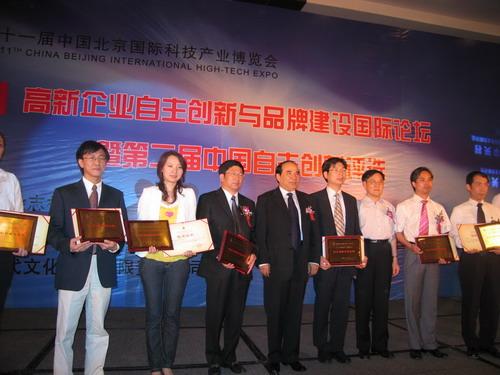 In the afternoon of May 22, the "International Forum on Innovation and Brand Building of High-tech Enterprises" of the 11th CHITEC Exhibition and the second session of China's independent innovation selection and award ceremony were held in Nirvana Resort Beijing. Tsinghua Science Park Co., Ltd. was awarded the "independent innovation premium brand" title issued by this meeting as the result of its outstanding contribution in creating an innovative entrepreneurship environment and encouraging enterprises' independent innovation. Abdulaidi Amudurexiti, the Vice Chairman of CPPCC; and Zhang Jing'an, the president of Science Daily, presented the award to winning enterprises. The Executive Director of Tsinghua Science Park and the president of Tsinghua Science Park Co., Ltd., Xu Jinghong, went on stage to get the prize on the behalf of TusPark Co., Ltd. and then gave a keynote speech.
In president Xu's speech of "TusPark Co., Ltd.: building innovative service platform and taking the road of independent innovation", he pointed out that environment, culture and spirit are all needed for independent innovation in high tech enterprises. And creating such environment, culture and spirit is the sacred mission of the builder and manager of TusPark: TusPark Co., Ltd. In the 14 years development process of TusPark, TusPark Co, Ltd has always been committed to creating an innovative service platform for high-tech enterprises. The core content of this platform is to promote integration among governance, industry, academia, research, economic, agents, etc and to provide a good environment for the growth of innovative technology companies. President Xu particularly pointed out that in the new logo conference for TusPark and TusPark Co., Ltd on Apr. 25, 2008, TusPark Co., Ltd formally announced that it entered into a comprehensive strategy of upgrading and building innovative service platform whose core content was value-added services to continuously make contribution to an innovation-oriented country.
The forum and the award ceremony is sponsored by the Beijing International High-tech Expo and co-hosted by "Zhongguancun" Magazine and International Finance News. Many leaders attended the forum and gave speeches, including Ji Chaozhu, the Former Secretary-General of the United Nations; Pierre Carlsen, the Jury Chairman of 2007 Nobel Physics Prize; Duan Yongji, the General Commissioner of Chinese Private Enterprises Association; and Xia Yingqi, the deputy director of the Zhongguancun CMC, ect. In addition to TusPark Co., Ltd, 10 other well known brands were also awarded the " independent innovation premium brand " title, including Vimicro Corporation, Founder Group, Sohu, Sina, etc.
[The Department of Planning and Development]