InnoSpring: First China-US High-tech Enterprise Incubator is Founded in Silicon ValleyPrint
Post Time:2012-04-11来源:
On April 11, InnoSpring—the first ever China-US high-tech enterprise incubator, was founded in Silicon Valley. InnoSpring is located in Santa Clara, California and has by now attracted 12 enterprises. At the opening ceremony, InnoSpring also announced to officially create its seed fund. TusPark's Mei Meng (Chairman of the Board), Ma Zhigang (Board Member), Liu Wanfeng (Vice President) and An Hong (Assistant to the President) attended the opening ceremony.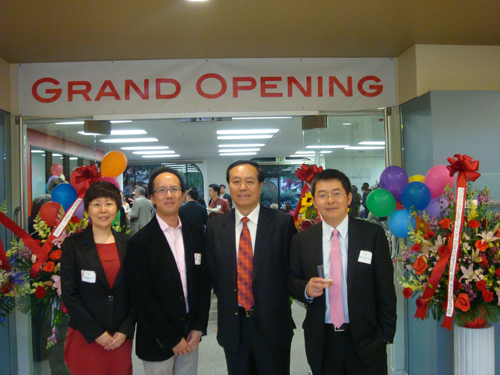 InnoSpring is jointly founded by TusPark, Shui On Group, Northern Light Venture Capital and Silicon Valley Bank. It is the first incubator dedicated to developing China-US cross-border enterprises.
Liu Wangfeng, InnoSpring's Chairman of the Board addressed the attendants at the ceremony, "Progresses in technology is making it more efficient to spread knowledge and given rise to more exchanges of talents across regions. It's a trend that innovative resources will be allocated across the globe in the optimal way. China is one of the fastest growing and most creative regions, while Silicon Valley remains the leader in the world's high-tech innovation. The establishment of InnoSpring will build an international network of science parks and improve the allocation of innovation resources across the global. In that way, the mission of stakeholders to promote entrepreneurship and their values will be better accomplished."
"For entrepreneurs who have a global view, the Pacific Ocean is not big enough," said Eugene Zhang, InnoSpring's President. "Enterprises that join InnoSpring's eco-system are able to take advantage of our strength both in China and the US, obtaining custom services for both incubation and quick growth. Today is the first milestone we've achieved and we look forward to further development in the future.
By joining hands with Kleiner Perkins Caufield Byers (KPCB), Northern Light Venture Capital, GSR Venture, China Broadband Capital and TEEC Angel Fund, InnoSpring has created its seed fund to provide start-up capital for qualified newly established enterprises, which will finish product design and building the core team through a six-month training camp and wait for the feedback and confirmation of their first batch of clients. As one of InnoSpring's major partners, TTEC Angel Fund will be responsible for selecting and evaluating the enterprise applicants. InnoSpring estimates that there will be 15 newly established enterprises to be involved in the seed fund project, each receiving US$ 25,000. Qualified enterprises have the opportunity to win an extra US$ 250,000, i.e. the total investment may add up to US$ 275,000.
"We're very honored to be one of the first enterprises to join InnoSpring," Yizhou, founder and CEO of Accusilicon said, "We produce time clocks with the least noise in the world, ICs10G/40G/100G Ethernet and 3G/4G mobile phone network, with the goal of producing more broadband with the same power. This is the first step of our global development plan, and we hope to further utilize InnoSpring's cross-border resources.
About InnoSpring:
InnoSpring is the first China-US high-tech enterprise incubator which aims to promote cross-border development for Chinese and US newly established enterprises. InnoSpring is jointly founded by TusPark, Shui On Group, Northern Light Venture Capital and Silicon Valley Bank. Website: www.innospring.net
InnoSpring offers:
•Office space up to accommodate 40 enterprises
•Start-up capital, seek for angle investors and venture capital
•Consultation with experienced management expertise
•Business plan and financing advice
•Entrepreneurship training courses, team building and enrollment
•Internal resources including accounting and lawyers
•Professional services for Chinese/US newly established enterprises interested in cross-border development
•Help US newly established enterprises to expand their market in China
The first batch enterprises that have joined InnoSpring come from a variety of industries, including hardware, software, clean energy and life science:
• Accusilicon,semiconductor
•Dewmobile,mobile terminal communication
•Hillion Tech,interactive video
•Hillstone Networks,network security solution
•Mugeda,HTML5 animation platform
•Narvelous,social game
•Peaya,second brain software
•QuestBid,virtual assistant and online auction system
•SecuredInside,SaaS security
•Sunube,cleaning technology for green data center
•Trusper,implicit social networks
•Facebook PhotoBox
InnoSpring is now taking up project applications from newly established enterprises. Those interested can log in http://innospring.net/apply/ to apply.