Herbert CHEN Elected as Vice President of International Association of Science Parks and Areas of Innovation (IASP)Print
Post Time:2018-09-03来源:TusHoldings
On September 2, 2018, at the 35th IASP World Conference held in Isfahan, a city in central Iran, Herbert CHEN, COO of TusHoldings and Deputy Director of the Administrative Committee of TusPark, was elected by unanimous vote as the Vice President of IASP. This is the first time that this position is held by a Chinese delegate since IASP was established 34 years ago.
IASP is now the world's earliest and largest association of science parks and areas of innovation. At present, it has 347 members from 77 countries and regions. Headquartered in the coastal city of Malaga in southern Spain, IASP has seven regional divisions around the world. The only overseas branch office – IASP China Office is located in TusPark, Beijing, run and managed by TusHoldings. The Administrative Committee of Zhongguancun Science Park organized the IASP World Conference three times, respectively in 1995, 2005 and 2015.
Under the guidance of TusHoldings' overall objective of "to become a Chinese leader and global model in the scientific and technological service industry", TusHoldings has taken internationalization as the top one of its three major strategies since the establishment of TusPark, striving to make TusPark an influential and top-grade university science park in the world. For this purpose, TusPark joined IASP as the first of its Chinese university science park members in 2004. After that, TusHoldings has been actively supporting and participating in various events of IASP all along. Major leaders of TusHoldings, including Mr. Meng MEI, former Director of TusPark Development Center and Chairman of TusHoldings, Mr. Jinghong XU, former President of TusHoldings, and Mr. Jiwu WANG, current Chairman of TusHoldings, have led delegations to attend IASP World Conference, and gave themed speeches.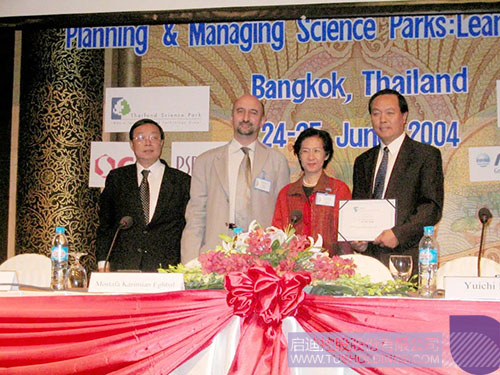 In 2004, Mr. Meng MEI (the first from right), then Chairman of TusHoldings, attended the conference of IASP Asia-Pacific Division held in Bangkok.
In 2010, Mr. Jinghong XU, then President of TusHoldings, attended IASP World Conference held in South Korea with a delegation led by him.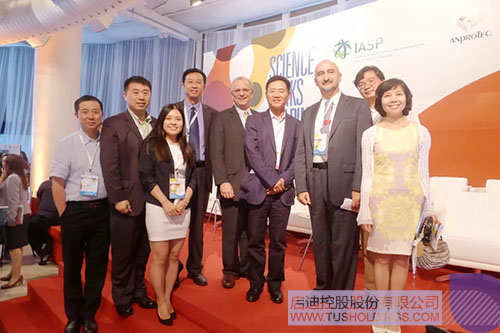 In 2013, Mr. Jiwu WANG (the third from right in front row), current Chairman of TusHoldings, attended IASP World Conference held in Brazil with a delegation led by him.
This election of Herbert CHEN as the Vice President of IASP fully demonstrates the strength and achievements of TusHoldings in building innovation ecosystem with TusHoldings' own characteristics by means of taking incubator, science park and science city as main platform, taking the key approach of holding shares of high-tech companies with core technologies and developing complete upstream and downstream industrial chains, and building a multidimensional triple helix system composed of multiple interacting innovation elements, that is "park + industry + finance", "technology + capital + industry", and "government + enterprise + university". Such strength and achievements have been highly recognized in the world.