Cambridge Independent: Bio-Innovation Centre imbues Cambridge with innovative ecology & development ideasPrint
Post Time:2020-10-23来源:TusHoldings
Cambridge, UK, October 22, 2020.
Cambridge Independent, a local influential news media, releases a special report entitled "Inside Cambridge Science Park's new Bio-powerhouse". Through field interviews to Bio-Innovation Centre and the enterprises settled in it, the report expounds its operation mode and purpose. According to the report, its innovation ecology and development concept upon close relationship between industry, University and research revives Cambridge. Its innovation in form of innovation carrier and science park not only provides more comprehensive services for enterprises at different stages, but also brings more opportunities for many enterprises.

Main content of the report are as follows:
Bio-Innovation Centre marks one of the landmark achievements upon cooperation between TUSHOLDINGS and Trinity College of Cambridge University. TUSHOLDINGS funds 200 million pounds in the project of upgrading Cambridge Science park together with Trinity College, including five new buildings of offices and laboratories, totally covering 350,000 square feet.
Equipped with professional laboratories and equipment, Bio-Innovation Centre is committed to providing professional services for enterprises in bio-science. Since the center was put into use in May 2019, more than ten excellent enterprises in bio-science and technology have been settled. "The center has gradually proved its value and importance."
TUSHOLDINGS was formerly titled Tsinghua Science and Technology Park. As an investor, developer and operator of Science Park based on Tsinghua University, TUSHOLDINGS has been distributed all over the world. In UK, Newcastle Science Park and Cambridge Science Park are founded by TUSHOLDINGs. In addition to development of science parks, Bio-Innovation Centre also made equity investment in Cambridge Bio-science Start-up and Cambridge Innovation Capital. Furthermore, TUSHOLDINGS cooperates with Innovation UK to accelerate growth, business expansion and project implementation of UK start-ups. TUSHOLDINGS UK has been committed to cross-border cooperation with British and Chinese governments, industries, universities and other institutions, so as to establish multi-dimensional and long-term cooperation between China and UK.
At present, more than 10 enterprises are settled in Bio-Innovation Centre, including Mogrify, a top-end innovation enterprise that runs big data for cell transformation; UK Center of Novogene, a gene-sequencing enterprise, and other derivative start-ups of Cambridge University.
Bio-Innovation Centre was the first to adopt a "shared laboratory" mode in Cambridge. The shared laboratory was officially opened in June this year. "Under the special circumstances of COVID-2019, we are confronted with challenges together. Through the shared laboratory, we expect to provide these excellent start-ups with a place to demonstrate their technology and an opportunity to grow," said David Chaplin, General Manager of Bio-Innovation Centre.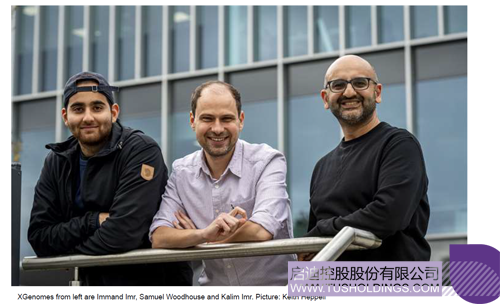 Team of XGenomes

According to XGenomes, an enterprise settled in the "shared laboratory" and a pioneer of a new DNA sequencing method: "in Cambridge, the shared laboratory is a unique model. We don't want to rent the space of a lab and spend tens of thousands of pounds to decorate it. We simply need a place where we can walk in and start working. "
Team of Higher Steaks

"It's a fantastic place, always happy for other users, just like a big family. Once we are no longer sharing, there will be independent spaces available, which is unique for the center. As Mogrify is in a good growth, it has formed a good environment for bio-science. We expect to develop here." Higher Steaks, another enterprise settled here and an innovative enterprise that utilizes cultured stem cells to produce meat, said it.
"Such a mode, still rare in UK, exactly fills the gap as bio-technical start-ups at Cambridge can't find suitable experimental sites, which is what Cambridge badly needs. All the companies in the shared space are in their early stages, creating a good atmosphere and a more diverse community. "