IASP's Workshop Held on Constructing International Open Innovation Ecosystem & 6th Salon of Members in ChinaPrint
Post Time:2020-10-31来源:TusHoldings
On the afternoon of October 30, the Workshop of International Association Science Parks and Areas of Innovation (IASP) on Constructing International Open Innovation Ecosystem & 6th Salon of Members in China are held in Jiangbei New District, Nanjing, Jiangsu Province, themed by "opening the border and cooperating with the excellent". the event was organized by IASP and Nanjing Science and Technology Bureau, and undertaken by IASP China Office, Central Business District of Jiangbei New District of Nanjing, and Jiangsu Tuspark Innovation Research Institute (Jiangsu Working Group of IASP China Office).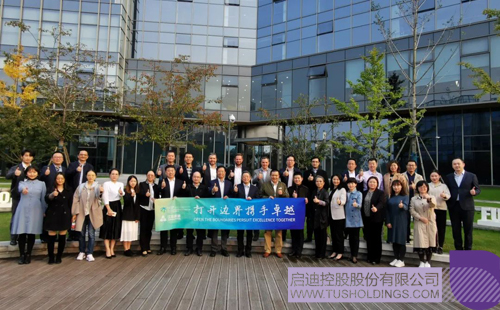 Group Photo

Those who attended the event and delivered speeches include Zhao Chengjun, Deputy Director of Nanjing Science and Technology Bureau; Motan, Director of International Cooperation Department of Torch Center of China's Ministry of Science and Technology; Cao Sumin, Former Deputy Director of Jiangsu Provincial Science and Technology Department; Hu Jun, Deputy Director of Construction Management Office of Central Business District, Jiangbei New District, Nanjing; Chen Hongbo, Vice Chairman of IASP and Executive Deputy General Manager of TUSHOLDINGS; Luis Sanz, (Online) Chairman of IASP Advisory Committee; and Du Peng, Executive Director of IASP China Office and Vice President of TUSHOLDINGS. Representatives of Chinese and foreign members of IASP, as well as those of high-tech zones, science parks and enterprises jointly attended the meeting. More members of IASP China watched the meeting live online.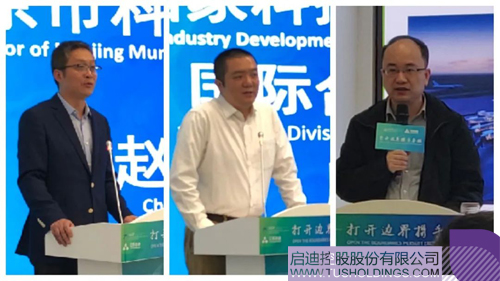 Zhao Chengjun, Motan and Hu Jun give speeches (from left to right).


Zhao Chengjun introduces the achievements Nanjing has made in international cooperation by actively cooperating with foreign and domestic universities, establishing Sino-foreign joint ventures, importing foreign top talents, collecting global resources and promoting itself to become a famous innovative city with global influence. Motan shares the progress that the Torch Center has made in global innovation, how the Center has overcome the negative impact of novel coronavirus pneumonia this year, and how the center has fully explored innovative resources and bring the world peace and development via technical innovation. Luis Sanz makes an online speech to show that in this era of globalization, only cooperation and innovation can pull us out of predicament and confront the challenges of current epidemic situations. IASP is an excellent link for international cooperation. Du Peng summarizes current progress that IASP China Office has made, elaborates the status quo of China's science parks in internationalization by referring to the experience of internationalization development of Tsinghua Science Park, and delivers earnest expectation for more Chinese science parks to join IASP family. Hu Jun shares the stories about how the Central Business District of Nanjing Jiangbei New District has grasped strategic opportunities of "superposition of two districts", which covers big health, new finance, scientific research and development, and how it further promotes opening-up and cooperation so as to create an international first-class platform with great abilities to innovation and transformation.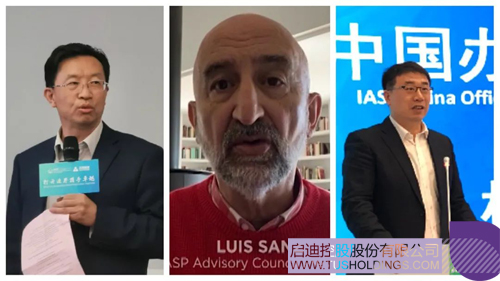 Chen Hongbo, Luis Sanz and Du Peng give speeches (from left to right).


Themed by "building an international open innovation ecosystem", this symposium invites to following persons to deliver wonderful keynote speeches: Cao Sumin; Martin Rune Hoxer, Director of Danish (Shanghai) Science and Technology Entrepreneurship Center; Bart Van Hezewijk, Innovation Officer of Dutch Consulate in Shanghai; Jelte Ansgar Wingender, Principal of Large Enterprise Innovation of Innoway; and Cees Admiraal, (online) Director of High-tech Park In Eindhoven, the Netherlands; Wang Miao, Deputy General Manager of Guangzhou South-China New Materials Innovation Park; Leandro Pompermayer, (online) Open Innovation Manager of Brazil PUCRS Science Park; and Qi Qu, Director of International Cooperation Department of Simcere Pharmaceutical Group. From the aspects of their corresponding respective institutions and countries, the guests discusses the relationship between international open innovation theory, methods and practices, and the development of China's science parks and enterprises, probes into how government agencies, science parks and innovation regions, enterprises and innovation ecosystem can work together for collaborative development, racks their brains together for breakthroughs in scientific innovation, cooperatively builds the ecosystem for technical innovation, makes exchanges and learns from each other for mutual enhancement and improvement.
Keynote Speeches



Zhang Xiuying, Special Advisor of IASP China Office for Advancing Network Development, presides over the open exchange session. Representatives of IASP members in China, including Shanghai Caohejing Science & Technology Entrepreneurship Center, Bio-Innovation Caohejing Science Park and Xinchuang Technology, exchanges ideas and discusses the theme of Exploration of new mode of International Open Innovation and Cooperation in Post Epidemic Era. The representatives expresses opinions and speaks freely to deal with the challenges in the epidemic situations, and exchanged suggestions on cooperation by grasping global opportunities for development. Chen Hongbo, Vice Chairman of IASP, concludes the seminar, indicating that the great contribution made by China's science parks to China's social and economic development has been widely concerned and fully recognized by industry colleagues in world science parks, and put forward new prospects for international cooperation with IASP as the window under the new situation in the future.
Open Interactive Communication


On the morning of October 30, IASP guests visit Nanjing R & D center and National Key Laboratory of Translational Medicine and Innovative Drugs of Simcere Pharmaceutical Group, and fully affirm and praise the layout of international cooperation, development vision and scientific research achievements of Simcere Pharmaceutical Group. On October 31, the guests visit Bio-Innovation Yangzhou, a new member of IASP China, and hold discussions and exchanges with relevant leaders of Hanjiang District of Yangzhou to jointly look forward to a new blueprint for innovative regional cooperation based on Yangzhou's industrial characteristics.
Field Visits

The road of innovation will remain stable and far-reaching if we advance hand in hand; the story of innovation will become fantastic if we keep opening up and cooperation. The 6th Salon of IASP China Members provides thinking power for promoting international innovation and cooperation and building a global open innovation ecosystem. As the executive unit of Jiangsu Working Group of IASP China Office, Jiangsu Tuspark Innovation Research Institute will, as usual, cooperate with IASP and IASP China Office to help Nanjing's major high-tech zones, science parks and innovation platforms more effectively and practically, strive to strengthen communication between Nanjing science parks and world associations of science parks, coordinate the cooperation between Nanjing science parks and IASP and global park network, and make positive contributions to advancing independent innovation and regional economic development.
Those also participates in the event include Shen Tonggang, Senior Vice President of TUSHOLDINGS and General Manager of TUSHOLDINGS Jiangsu; Sai Fulin, Assistant President of TUSHOLDINGS Technology City; Shang Wei, Deputy Director of IASP China Office, etc.. Tang Hao, General Manager of Jiangsu Tuspark Innovation Research Institute and Leader of Jiangsu Working Group of IASP China Office, presides over the workshop.
Extended information
International Association of Science Parks and Areas of Innovation (IASP) is an international network connecting global science parks. IASP connects experts from science parks all over the world to serve members and promote their growth and success rate. IASP aims at raising competitiveness of enterprises and entrepreneurs in member cities and regions, and contributing to global economic development through innovation, entrepreneurship and successful transformation of knowledge and technology. As a non-profit organization, the IASP has a special consultative status granted by Economic and Social Commission of the United Nations and acts as one of the founding agencies of World Innovation Association.