TusPark Jiangsu and Holland-based PhotonDelta Foundation Forms Partnership to Set up Central Europe Photoelectronic Industrial FundPrint
Post Time:2021-01-15来源:Tusholdings
On Jan., 12, TusPark Jiangsu and Holland-based PhotonDelta Foundation signed a cooperation agreement online aiming to develop long-standing partnership. Shen Tonggang, Senior Vice President of Tus-Holdings Co., Ltd (Tus-Holdings) and Tuspark Jiangsu, Tang Hao, Vice General Manager of Tuspark Jiangsu and General Manager of TusPark (Jiangsu) Research Institute for Innovation, Joachim de Sterke, Chief Finance Officer, Giuseppe Coppola, Chief Strategy and Business Development Officer, Jorn Smeets, Marketing Manager from PhotonDelta Foundation attended the signing ceremony online. Despite the COVID-19 pandemic, TusPark Jiangsu has continued to advance the Sino-Neitherland technology cooperation and international technology innovation.
The "14th Five-year Plan" recently released by the CPC Central Committee stressed the importance of enhancing national strength in strategic technology and developing cutting-edge frontiers such as Artificial Intelligence, Quantum Information (QI), Integrated Circuit (IC) and Life Health (LH). The development of the foregoing frontiers is closely linked with photoelectronic industry, and the photoelectronic technology level and industry capacity have become a key indicator to measure a country's comprehensive strength and international competitiveness.


The wrapping up of the negotiations on a China-EU investment agreement has offered a valuable opportunity for China and Europe to deepen cooperation. TusPark Jiangsu seizes the opportunity by joining hands with PhotonDelta Foundation to give full play to their respective advantages and sharing their resources to achieve a win-win cooperation. With the witness of Mr. Shen Tonggang, Mr. Tang Hao and Mr. Joachim de Sterke signed the cooperation agreement on behalf of their respective organizations.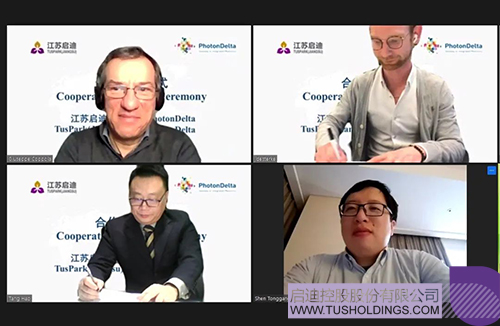 Signing the agreement online


Having the world-leading technology innovation force, Netherlands is in a internationally leading position in the photoelectronic field. PhotonDelta Foundation, which is based in Eindhoven, Netherlands, is a builder of Netherlands-centered European integrated optoelectronic industry and growth accelerator., and it has formed a network of business partners from Netherlands, the rest of Europe and other parts of the world. Mr. Shen Tonggang pointed out in his speech that Nanjing and Eindhoven are sister cities and the cooperation between the two cities is of great significance. TusPark Jiangsu is looking forward to the close cooperation with PhotonDelta Foundation in order to give support to the enterprises from each of the two innovative ecosystem to explore China and European markets. Mr. Joachim de Sterke said that they are pleased to establish partnership with Tus-Holdings, China's well-known technology service company and will accelerate the global development of European enterprises in the cluster with the help of Chinese partners.
TusPark Jiangsu will base its close cooperation on TusPark's global network and give full play to its advantages in the photoelectronic industry and capitals. On the one hand, TusPark Jiangsu will "introduce" prominent European photoelectronic companies in to China market by providing them with incubation, acceleration, marketing and investment while delivering full lifecycle services for the application of sci-tech achievements from European universities. On the other hand, TusPark Jiangsu carries out "going global" strategy by helping Chinese photoelectronic companies going overseas to cooperate with European companies, research institutions and foundations, driving the resources exchange and exploring international market with high efficiency and low risk. PhotonDelta Foundation will rely on its advantages of the industrial, academic and research resources in European photoelectronic field to serve Chinese companies expanding in European market and promoting two-way cooperation between China and European industries. TusPark Jiangsu and PhotonDelta Foundation will set China-Europe Photoelectronic Industry Fund to invest in and incubate first-class technology-driven companies in China and Europe.
TusPark Jiangsu has long maintained exchanges with Dutch technology partners and set up TusPark Jiangsu European Innovation Center in Eindhoven, Netherlands in 2017. Building a network of international technology cooperation and promoting the interconnection between high-tech companies and institutions from various countries and regions in the world is a robust approach to speed up technology cooperation and exchanges. Relying on European Innovation Center, TusPark Jiangsu has continued to provide services for international innovative talents and high-tech projects entering China. The cooperation with PhotonDelta Foundation will bring European top-notch technology resources and industrial funds for TusPark Jiangsu which will in turn adopt the new model of "market + investment + incubation" to help international innovative resources and companies to settle in China.
About PhotonDelta Foundation
PhotonDelta Foundation is a leading photoelectronic industry cluster in Europe and photoelectronic industrial alliance consisting of European companies, prestigious universities and top scientists. The foundation is able to provide high-quality business cooperation network, technology, market and fund support for innovative enterprises, promote cooperation and innovation between optoelectronic companies and research institutions, accelerate and shorten the time to market. Relying on the optoelectronic research institute and other partners, PhotonDelta Foundation is committed to developing a sustainable optoelectronic ecosystem. It has set up investment fund of Euro 236 million and completed a number of successful investment projects, including investing Euro 35 million for Smart Photonics, a Netherlands-based company specializing in Photoic Integrated Circuit (PIC).