TusPark WHA on the Campus of Chulalongkorn University Comes into ServicePrint
Post Time:2021-02-10来源:Tusholdings
TusPark WHA, whose decoration was completed in Dec., 2020, has been put into trial operation recently. Despite the COVID-19 pandemic, the TusPark Thailand team overcame the difficulties with the support by TusCity Group and TusPark Yunnan to give strong impetus to the scientific and technological cooperation between China and Thailand by holding online brand campaigns, integrating resources and building a platform.

Images of TusPark WHA

On Jan., 22, 2021, TusPark Thailand, together with TusStar and 启迪K栈, held an online matchmaking meeting themed with "Explore 5G 2B Market in Thailand". Representatives from Huawei Asia Pacific, 5G Application and Ecosystem of Huawei Thailand Representative Office, TusPark Zhizhangyi, Shenzhen Aishangyouwei Technology, Shanghai Jiayun and Future Robotics, Yunnan University were invited to deliver roadshows. Over 30 attendees were present at the meeting, including Chang Yuheng, CEO of TusPark Thailand, Hu Jun, Head of 5G & IoT Business Unit, Huawei Asia Pacific and Du Yugang, MKT Division, Huawei Thailand.


On Jan., 29, 2021, TusPark Thailand organized the workshop named "Startup Survival amid the Pandemic", where Patra BuPawon, Partner of Thailand DTL, Xue Yafei, General Manager of TusStar Alberta, Canada and Head of International Cooperation, TusStar (Shanghai), Gong Yingjing, Entrepreneurship Instructor of TusSpace and other experts shared their insights into the challenges that Startups have to confront and the coping strategy amid the COVID-19 pandemic in terms of business risks, operation models and human resources with over 30 guests from China, Thailand and Malaysia.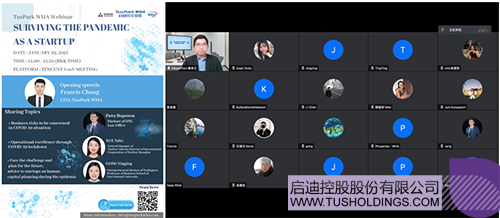 About TusPark WHA
TusPark WHA is a Sino-Thai tech innovation incubation run by a joint venture that is formed by China's leading tech service provider Tus-Holdings Co., Ltd and WHA Group, a Thailand-based leading real estate developer. The platform aims to promote the sci-tech cooperation between China and Thailand and other ASEAN countries as well as the regional socioeconomic development through incubating high-tech enterprises, foster talents of innovation and entrepreneurship, promote the exchange and transformation of sci-tech achievements
Located in the prestigious Chulalongkorn University in the center of Bangkok, TusPark WHA enjoys convenient transport and advantageous geography. Covering an area of over 3,000m2, the Phase I of TusPark WHA is capable of providing fully functional offices and high quality facilities, as well as full life cycle incubation acceleration services for the startups.
Contact: China - Mr. Li, +86 13811346250 (China);
Thailand - Mr. Paisan Jeanuthaithamrong, +66 800506750