TusHoldings and Fuji Electric Holds Sino-Japan Zero Carbon Technology Innovation Forum in QingdaoPrint
Post Time:2021-04-16来源:TusHoldings
On April 15, Sino-Japan Zero Carbon Technology Innovation Forum hosted jointly by Tus-Clean Energy and Fuji Electric was launched in Qingdao. Themed with "Focus on Zero Carbon Technology and Create Green Future", the forum brought together representatives from government, industry and academic community to carry out in-depth discussion and exchange on the two countries' new technologies, new models and new business patterns concerning clean energy, energy conservation and emission reduction, with a view to promoting "technology innovation + industrial cooperation", leading zero-carbon industry in the two countries towards high quality development and make contributions to achieve global green development goals.
Opening Ceremony of Sino-Japan Zero Carbon Technology Innovation Forum

Wu Xuyong, Deputy Head of Qingdao Municipal Science and Technology Bureau, Zhang Jinshen, Executive President of TusHoldings, President of TusHoldings Northeast Asia Headquarters and Chairman of TusStar, Chen Hongbo, Vice Chairman of International Association of Science Parks and Areas of Innovation (IASP), Senior Executive President of TusHoldings, Vide Director of TusPark Administration Committee, Yokota Mitsuhiro, Director of Fuji Electric (Beijing) were present at the forum and delivered speeches. Also among the participants were Jia Ziwen, Deputy Head of China Center for International Science and Technology Exchange, Bian Lihang, Director of Science and Technology Exchange Office, Shen Jiaming, Chief Engineer of Energy China, Liu Yuegui, Deputy Director of Qingdao Municipal Science and Technology Bureau, Pang Benhua, International Cooperation Department, Fu Qiang, Party Group Secretary and Director of Science and Technology Commission of Yanqing District, and Executive Deputy Director of Zhongguancun Yanqing Park Administration Committee, Sun Bin, Senior Vice President of TusHoldings and President of Tus-Clean Energy, Wu Xinzhen, Professor of School of Electromechanic Engineering, Qingdao University, Hara Yoshinobu, President of Qingdao Branch, Bank of Tokyo-Mitsubishi UFJ (China) Ltd., Ryo Honda, Chairman and General Manager of Mitsubishi (Qingdao) Corp. The forum was organized by Northeast Headquarters of TusHoldings, TusStar (Qingdao), Tus-Cluster Technology Group, Fuji Electric (China) and Fuji Bingshan Control Systems Co., Ltd, with the support of China Center for International Science and Technology Exchange, Qingdao Municipal Science and Technology Bureau, and Qingdao Association for Science and Technology.
Deputy Head Wu Xuyong delivers a speech

In his speech, Deputy Head Wu Xuyong, on behalf of Qingdao Municipal Science and Technology Bureau, expressed warm welcome to the leaders, guests and friends from business circles and rendered thanks to people from all walks of life for their long-term support to the development of Qingdao. He highlighted that this year marks the first year of "14th Five-year Plan" and we are in the new era of incorporating peaking carbon dioxide emission and carbon neutrality into the overall layout of ecological civilization construction. Qingdao will jump at the opportunity of new round of technology and industrial revolution, attract global factor resources with open-minded approach, vigorously develop new energy, new materials, new technologies and new industries, and cultivate innovative development growth poles. He said, the forum taking place in Qingdao will help further deepen exchanges and cooperation between Sino-Japan companies and universities, upgrade the collaboration between Qingdao and TusHoldings and Fuji Electric. Qingdao will provide quality service and welcoming business environment for innovative businesses supporting the development of Qingdao, create new model for technology innovation with them and lead Chinese and Japanese companies with zero-carbon emission towards high quality development.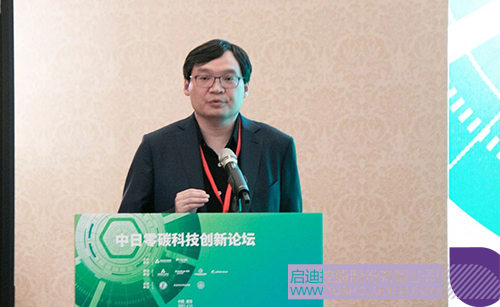 Executive President Zhang Jinsheng delivers a speech

In his speech, Executive President Zhang Jinsheng mentioned that Qingdao and Japan have been in close cooperation. As a partner of Qingdao, TusHoldings will build a Northeast Asia-oriented Tus-International Innovation Center and Tus-Venture Capital Headquarters in Qingdao to attract more innovative and entrepreneurial talents, as well as high-quality enterprises to settle in Qingdao. He also said that TusHoldings focuses on the field of technology services and has successfully established a global technology innovation network over its 26 years of innovation practice. As a strategic emerging industry engine, TusHoldings focuses on "new industries + new infrastructure" to take the "double new" path, promotes technological innovation through the "two-way" path of deep integration of government and enterprises, and dedicates our aspiration and mission of "technological achievements transformation, entrepreneurial business incubation and innovative talents cultivation" to the cause of serving and strengthening the country with science and technology, serving the national strategy with technological innovation. TusHoldings attaches great importance to international cooperation and exchanges and has established a sound foundation for cooperation with Japan. In March this year, it successfully held the "Tokyo Metropolis & Tus-Tech Innovation Project Roadshow" to build a platform for exchanges and cooperation between Chinese and Japanese companies. Some enterprises showed their interest to settle in Qingdao. The holding of this forum is not only a continuation of the existing cooperation, but also a pragmatic measure to link more innovative and entrepreneurial elements and scientific and technological achievements resources. TusHoldings will integrate more resource elements to help Qingdao build the world's industrial Internet capital, while continuing to deepen China-Japan's all-round cooperation in the field of zero-carbon economy and science and technology, jointly adding vitality to green and low-carbon development.
Vice Chairman Chen Hongbo delivers a speech

Vice Chairman Chen Hongbo delivered a speech at the forum and congratulated the forum on behalf of IASP. He pointed out that IASP is the earliest and largest science park and innovation regional association organization in the world so far. Its only overseas branch China office is located in Beijing Tsinghua Science Park, and TusHoldings is responsible for its daily operation and management. Since its establishment, IASP has continuously strengthened the mutual understanding, communication and cooperation among science and technology parks and innovation regions around the world, and promoted the innovation and development of the world, especially developing countries, by improving the management of science and technology parks. IASP continues to pay attention to the development trend of zero-carbon technology, and will share the views and practical experience of "focusing on zero-carbon technology and building a green future" put forward at this forum with the managers of science and technology parks around the world through its international exchange network, so as to jointly discuss the future development of zero-carbon technology on a broader platform and build a win-win global climate governance system. He showed his strong confidence that, with the joint efforts of everyone, the concept of green development based on zero-carbon technology will be further deeply rooted in the hearts of the people, and that related technologies will surely enter the application field faster and achieve good social and economic benefits.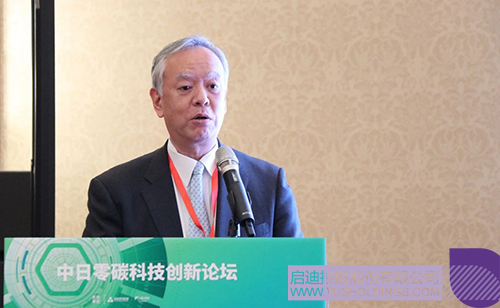 Director Yokota Mitsuhiro delivers a speech

In his speech, Director Yokota Mitsuhiro introduced the basic situation, business system and industrial and technological advantages of Fuji Electric. He said that Fuji Electric has led the industry development with innovative technology and has formed a wide-ranging industrial layout in Japan, as well as 15 offices in China. The company has shown impressive strength in such areas as electronic equipment, power semiconductors, power electronic application meters, energy-saving automation and energy management, able to provide customers with energy-saving infrastructure and one-stop solutions. He pointed out that Fuji Electric and TusHoldings have maintained in-depth exchanges and cooperations, and signed a clean energy cooperation agreement for Chinese and Japanese companies at the forum, aiming to strengthen mutual exchanges and international cooperation in energy conservation and environmental protection technologies and innovative technologies. This is a pragmatic initiative to promote the economic and social development of China and Japan. Pragmatic measures for development. He hopes that Fuji Electric can develop more innovative technologies with TusHoldings and other Chinese companies, and work together to promote the construction of a green and low-carbon international system.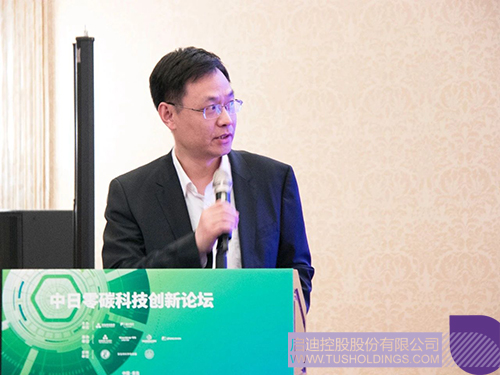 Li Xuguang delivers a speech

Li Xuguang, Executive Vice President of Tus-Clean Energy and Executive President of Tus-Clean Energy Research Institute, introduced the basic situation of Tus-Clean Energy and the research institute. He pointed out that, China is facing great challenges in peaking carbon dioxide emission and achieving carbon neutrality. It is the only way to rapidly transform scientific and technological innovation and scientific research results into application in a systematic manner while enhancing and deepening international cooperation. Taking the construction of a zero-carbon society as its mission, Tus-Clean Energy is committed to promoting the implementation of the zero-carbon strategy with technological innovation, continuously reinforcing the road to the transformation of scientific and technological achievements, and promoting energy transformation and upgrading and green development. He stressed that, in the process of constructing a safe, stable, diversified and zero-carbon modern energy system, Tus-Clean Energy has continuously conducted in-depth exploration and practices in transforming scientific and technological achievements in the application in the low-carbon fields, and has achieved the industrialization layout in the fields of zero-carbon power, zero-carbon heating, zero-carbon power generation and zero-carbon biomass. He pointed out that Tus-Clean Energy attaches great importance to international cooperation and that technological innovation is the key to achieving economic and social development while peaking carbon dioxide emission and carbon neutrality at the same time. With the good foundation laid over recent years, the Group will continue to strengthen and deepen China-Japan scientific and technological cooperation and promote the application of advanced technologies, helping achieve the goal of "3060 target".
Contract-signing Ceremony

With the witness of the leaders present at the forum, one subsidiary of Tus-Clean Energy and Dalian Fuji Bingshan Control System Co., Ltd. signed a Memorandum of Understanding on cooperation in the field of clean energy management system projects. After that, Bai Jingying, General Manager of Dalian Fuji Bingshan Control System Co., Ltd., Li Xianting, Professor with the School of Architecture of Tsinghua University, Shi Qijian, Deputy Director of Operating Technology Department of Dalian Fuji Bingshan Control System Co., Ltd., Zhang Zhentao, Researcher with the Institute of Physics and Chemistry of the Chinese Academy of Sciences, and Xie Kun with Tus-Clean Energy, Yuichiro Minegishi, Deputy Director of Power Electronic System Business Division with Fuji Electric (China) Co., Ltd. shared their relevant technologies and business cases. The participants discussed and exchanged views on related topics. Shang Wei, Manager of International Cooperation of TusHoldings and General Manager of TusStar Japan presided the forum.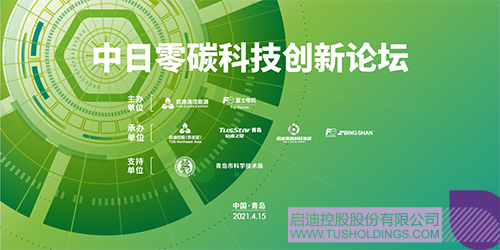 Among the guests to the event were close to 200 representatives from China Energy Engineering Group Geotherm Co., Ltd, Qingdao Port Group, Gree Electric Appliances, Beris Engineering & Research Corporation, Haier Group, Nokia (Qingdao), Capital Institute of Science and Technology Development Strategy, Shandong University of Science and Technology, Beijing Greening Foundation, Shandong Sino-Japan Industrial Technology Research Institute, OSA Sustainable Architecture Design Corp.