Putin Points Out at the Dialogue Meeting with Foreign Entrepreneurs That Russia-China Cooperation in Science and Technology Innovation Will Surely Succeed Chairman Wang Jiwu Was Invited to Attend the MeetingPrint
Post Time:2021-06-05来源:TusHoldings
On the evening of June 4, Wang Jiwu, Chairman of TusHoldings was invited to attend the dialogue meeting between Russian President Putin and foreign entrepreneurs in Moscow.
St. Petersburg International Economic Forum 2021 took place on June 2 although the event was canceled last year due to the Covid-19 pandemic. On the afternoon of June 4, Russian President Putin appeared at the plenary session of the forum and delivered a keynote speech entitled "Overcoming the Impact of Covid-19 Pandemic". Following the speech, President Putin had a video talk with the representatives of the international investment community and large foreign companies.
During the forum this year, which was themed with "Join Hands to Fight the Pandemic", Chairman Wang Jiwu exchanged ideas via live video conference with Russian President Putin, Argentina's President Alberto Fernandez, Serbian President Alexander Vucic, leaders from China Investment Corp. and over 30 representatives from sovereign funds, large investment institutions, and biomedical companies from more than a dozen countries in the conference room on the 16th floor of the Innovation Building in Beijing-based TusPark.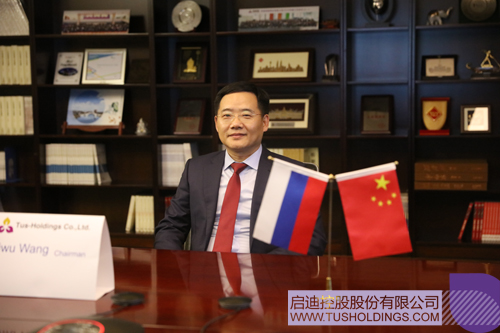 In his speech made at the conference, President Putin fully affirmed the efforts made by the Russian Direct Investment Fund (RDIF) to fight the pandemic after the outbreak, and spoke highly of the investment work done by China Investment Corp. (CIC), RDIF and TusHoldings in the high-tech fields such as Artificial Intelligence (AI) and online education.
After listening to the introduction of the results of joint investment by CIC, RDIF and TusHoldings and other institutions, especially in high-tech venture capital, President Putin gave positive comments. He pointed out that Russia-China relations has reached an unprecedented high level and both sides have extensive common interests; that, as long as the two countries actively transform political mutual trust into economic activities and continue to deepen bilateral cooperation in the fields of talents, technology, and venture capital, the scientific and technological innovation cooperation between the two world powers will surely be successful.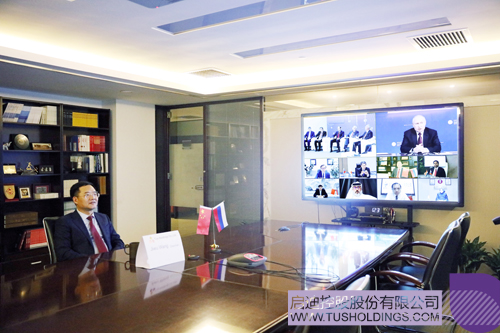 Over recent years, it has gradually become a tradition for President Putin to meet foreign entrepreneurs who have substantial operation in Russia during the two major international economic forums held in Russia (St. Petersburg International Economic Forum and Eastern Economic Forum). Chairman Wang Jiwu had two face-to-face interactions with President Putin in May and September 2018 to discuss the prospects of China-Russia scientific and technological innovation cooperation. This year is the third time that Chairman Wang Jiwu has been invited to attend the event.
On September 11, 2018, when the Fourth Eastern Economic Forum took place in Russia, President Putin specifically said to Chairman Wang Jiwu at a seminar, "The cooperation in science and technology innovation between China and Russia is long-term, strategic and will not give up halfway." After a few years of hard work, Russia-China Venture Fund (RCVF), the first of its kind for high-tech projects in Russia established by TusHoldings and its Russian partners has begun to invest in projects. TusHoldings, together with Russia-China Investment Fund (RCIF), Russian Vi-Holdings and sovereign funds of Middle East countries, has participated in the investment and construction of Moscow Tushino Science City project. By far, the main building of the Phase 1 project has been roofed. TusHoldings is taking this as a starting point to deepen the cooperation with Russian partners in terms of project investment and achievement transformation; TusHoldings is actively advancing the implementation of "Tus-Moscow University Innovation Consortium" project with Russian National Intellectual Resources Foundation and Moscow University. The project aims to build a whole-chain technology service platform for "basic science - applied science - industrialization of scientific and technological achievements - FinTech" between China and Russia.
2021 is set as China-Russia Year of Scientific and Technological Innovation, and both China and Russia are scientific and technological powers in the world. It is in the interests of both countries to deepen cooperation in scientific and technological innovation. TusHoldings will, as always, continue to bring into full play its advantages in construction of its innovative service network and system, strengthen collaboration and cooperation, and make contribution to China-Russia scientific and technological innovation cooperation.