Cai Xiaowei, President of TusHoldings Attends the Reception in Recognition of Luxembourg Finance Minister's Visit to China Print
Post Time:2023-05-24来源:TusHoldings
On May 23rd, Cai Xiaowei, President of TusHoldings, attended a reception hosted by the Luxembourg for Finance at the residence of Luxembourg Ambassador to China. H.E. Yuriko Backe, Minister of Finance of Luxembourg, H.E. Marc H ü bsch, Luxembourg Ambassador to China, and Deputy Head of Mission with the Luxembourg Embassy were present and delivered a speech at the event. Yang Ming, Senior Vice President of TusHoldings and Executive President of Tus S&T Service Group, and Sai Fulin, Secretary of TusHoldings Chairman also appeared at the event.

▲President Cai Xiaowei (third from the left) is talking with H.E. Yuriko Backe, Minister of Finance of Luxembourg (first from the right) and H.E. Marc H ü bsch, Luxembourg Ambassador to China (Second from the right).
At the reception, President Cai Xiaowei had a friendly conversation with H.E. Yuriko Back, the Minister of Finance and H.E. Marc H ü bsch the Ambassador. President Cai gave a brief introduction to the TusHoldings and its projects in Luxembourg and pointed out that TusHoldings has maintained good cooperation with Luxembourg and has laid a solid foundation for future cooperation. TusHoldings set up the China-Luxembourg Innovation Investment Fund in Luxembourg and plans to continue expanding the scale of green investment. The projects invested by the Fund maintain close cooperation with China and will continue to expand and deepen the cooperation projects in China. Both sides can rely on the China-Luxembourg Innovation Investment Fund and the TusPark invested by the Fund in Belgium to create a multi-dimensional China-Europe innovation platform with the "one park + one fund" model.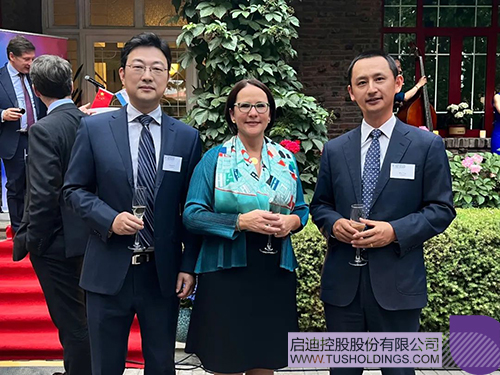 H.E. Yuriko Backe said that Luxembourg will continue to provide a good business environment and policy support for Chinese enterprises. In recent years, Luxembourg has focused on the development of green sustainable finance. While jointly building S&T innovation and development, the two sides can deepen cooperation in the field of green finance, create new highlights of China-EU cooperation, and explore new opportunities for deepening cooperation.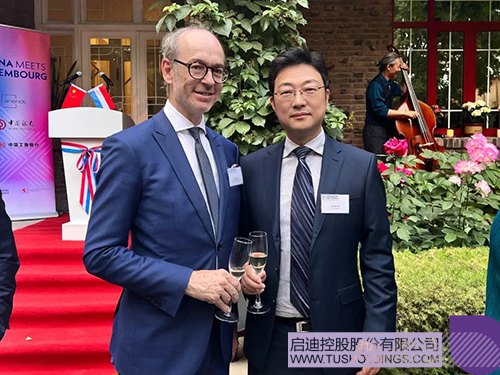 In April 2019, Tus S&T Service Group and Yuzi Investment Holdings jointly established the China-Luxembourg Innovation Investment Fund, which was the first equity investment fund focusing on technology innovation established by a Chinese enterprise in Luxembourg. The Fund aims to invest in strategic emerging industries such as environmental protection and new energy, medical care and biotechnology, digital industry and financial technology, modern logistics and civil aviation technology in European countries within the Luxembourg radiation zone. committed to building the "Air Silk Road" for S&T innovation.
In April 2022, in cooperation with the Belgian government and renowned universities, the TusPark Brussels established by the China-Luxembourg Innovation Fund was officially put into operation. As TusHolding's innovation center in Europe, the Park has integrated TusHolding's partnership network resources in Luxembourg and Europe as a whole to form an innovation ecosystem with multiple functions that serves science and innovation exchanges, incubation, and investment between China and Europe.