TusHoldings Delegation Attends IASP World Conference and Chairman Jiwu WANG Delivers Video Speech Print
Post Time:2023-09-16来源:TusHoldings
The 40th International Association of Science Parks and Areas of Innovation (IASP) World Conference, themed by "Megatrends in Innovation Ecosystems: What are the impacts for STPs & AOIs?", took place in Luxembourg from September 13 to 15, 2023. Nearly 500 guests, including science park managers, government officials, experts, scholars, and entrepreneurs from 52 countries around the world, attended the conference. Jiwu WANG, Chairman of TusHoldings, was invited to deliver a video speech at the plenary meeting of the conference.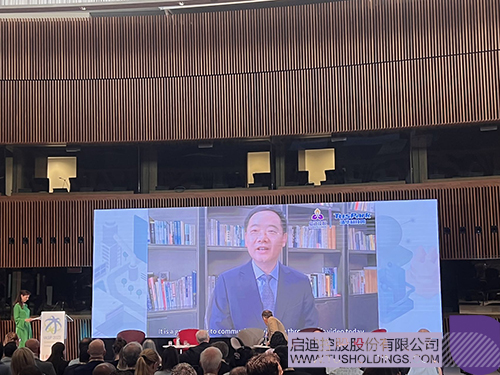 Chairman Wang pointed out in his video speech that the impact of innovative ecological development on the science parks is mainly reflected in three aspects: First, it will enhance the growing capability of parks, which leads to faster growth of startups; Second, parks will have higher resilience, which will help companies in crisis recover quickly; Third, it will facilitate recycling of entrepreneurial experience within parks, which will enable reuse of R&D input and experience accumulated by those failed startups for establishment and development of new startups.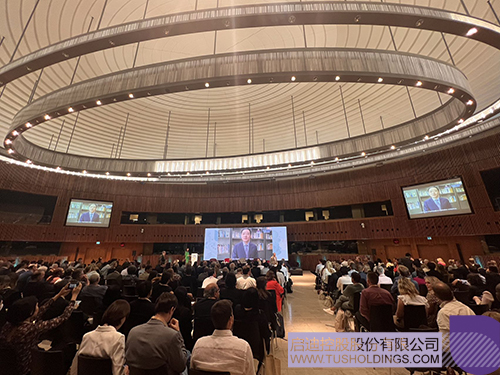 Chairman Wang Jiwu said that the innovation ecological level of science parks can improve continuously in three ways. The first path is to insist on clustering innovation that effectively gathers the power of government, universities, enterprises, industries, capital, technology, and finance in the park; The second path is to respect objective laws and diversity, and gradually form an innovative ecology through natural synergy of diversity. The third path is to transform the operating company into a platform-based enterprise. The experience of TusHoldings in the past 10 years has proved that a platform-based operating entity, or a sci-tech innovation platform enterprise, is more conducive to the construction and development of ecological science parks.

Chairman Jiwu Wang's speech was greeted with warm applause from all attendees at the event.

Herbert Chen, Senior Executive Vice President of TusHoldings and then Chairman of IASP, Zhuocun LIN, Vice President of TusHoldings, and other representatives of TusHoldings, TusCity, TusPark UK, TusPark Brussels, TusPark Jiangsu and other institutions attended the conference. During this period, Chairman Chen addressed the IASP International Board Meeting, the opening ceremony, General Assembly of Members and closing ceremony of the 40th IASP Conference. He fully recognized the positive role IASP has played and achievements it has made in promoting the development of science park industry in the world over the past 40 years, and wished that IASP practices continuous innovation and makes greater contributions to creating the world's largest exchange platform for science park managers.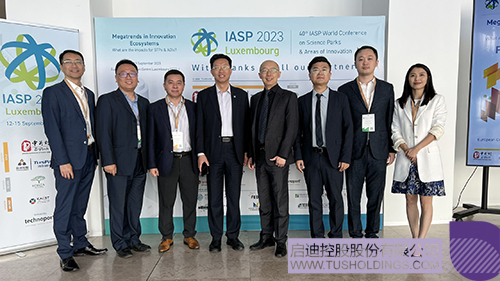 At General Assembly of members, it was decided following the voting by full members that the 42nd World Conference of IASP would be held in Beijing, China in 2025. Chairman Chen warmly congratulated Beijing and Zhongguancun on behalf of IASP when the voting results were announced. Being a full member of IASP for 19 years and the current chairmanship of IASP, TusHoldings enjoys a wide-ranging influence and good reputation in the international science park industry, having made continuous contribution to the international development of science parks in Beijing and Zhongguancun.

During the conference, the TusHoldings delegation also communicated with representatives of science parks from Saudi Arabia, Nigeria, Thailand, Hsinchu, Taiwan, China, Brazil, Iran, Canada, Belgium, South Korea, the United States, Luxembourg, Sweden, Norway, Japan, Spain, Italy, Peru, France and other countries to deepen mutual understanding, explore the details of future cooperation, and further expand the international social circle of TusHoldings.

The 41st World Conference of IASP is scheduled to take place in Nairobi, the capital of Kenya, from September 17 to 20, 2024.

Extended Reading
Established in 1984 and headquartered in Malaga in the south of Spain, the International Association of Science Parks and Areas of Innovation (IASP) is currently the largest international organization of science parks. So far, IASP has over 300 members from 80 countries around the world, representing 115,000 high-tech companies worldwide. The number of Chinese members ranks first among all countries, remaining stable at around 10% of the total. IASP held World Conferences in Beijing in 1995, 2005 and 2015 respectively. The IASP China Office, the only overseas office of IASP, is located in TusPark, Beijing, and TusHoldings is responsible for its daily operation and management.