Tsinghua Science Park won "Pioneer Award for Innovation Park in China" for the First TimePrint
Post Time:2011-06-15来源: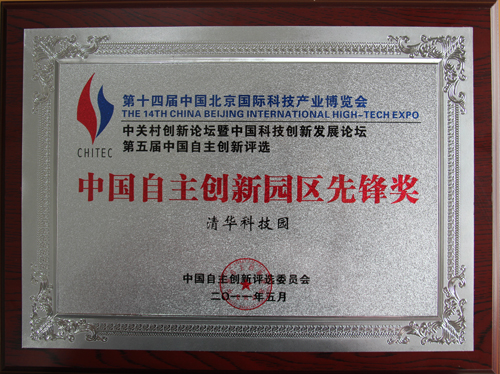 The 14th Chinese Beijing international technologic industry exhibition was launched in 17th May, 2011 cohosted by Department of Science and Technology, Department of Commerce, department of education and information, State Owned Assets Supervision and Administration Commission, China Council for The Promotion Of International Trade, State Intellectual Property Office and Beijing Municipal Government. The "5th Innovation Award Ceremony in China" held in China Steel Building in 18th May is one of the most important events of this scientific and technological fair. Du Peng, the president assistant to the Tsinghua innovation institute took part in this event and received the final award of "Pioneer Award for Innovation Park in China" on behalf of Tsinghua Science Park.
The election lasted for six months. After online registration, writing registration, media and experts introduction, and jury selecting, there are 104 companies and individuals win the ten awards. Besides Tsinghua Science Park, the winners are Wuhan East Lake High Technology Park, Shenzhen High-tech Industrial Park, Zhongguan Changping Park and Zhongguancun Software Park etc.
As the key event for 14th scientific and technological fair, Chinese innovation selecting activity has held for four times consecutively. This kind of events is of great significance to enhance the independent innovation of enterprises, build national brand awareness, create international brands with typical Chinese characters, and improve the image of national learning, advancing and innovation.