Chen Hongbo Attended the 28th Annual Ceremony of International Science and Technology AssociationPrint
Post Time:2011-08-04来源:
28th ISAP annual ceremony held in Copenhagen, Denmark capital during Jun. 19th to 22nd 2011. The theme of that is "Roadmap for future innovation". Over 550 related representatives from over 50 countries attended the conference.
Chen Hongbo, Vice CEO of TusPark, director of Beijing IASP office, An Hongping, Shanghai GM of Ruiqi Technology Corp. attended this conference.
Besides the opening ceremony, closing ceremony, plenary and group meetings, the conference added the section "knowledge camp". During this section, all anchorpersons and speakers had a brief reporting and communication for all, thus let those who did not attend conference to have a thorough knowledge of all the contents. This innovative section won ovation from all the attendants.
Besides that, the conference organizers also invited some professionals and present the main points of speakers in the form of cartoon to generalize and display for deeper impression among listeners. This is one of the main parts of conference report materials.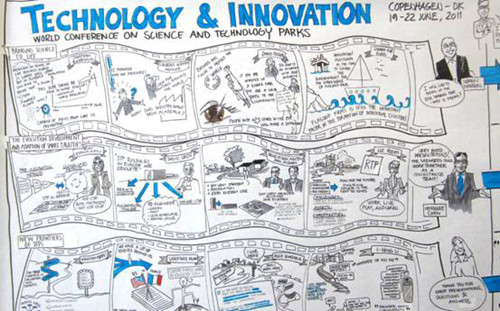 Because of these features and innovations, this conference is called as the international conference full of innovation. Before the opening ceremony of this conference, Chen Hongbo also attended the seminar named as "How to attract more corporations into park by building park brands" and received recognition and praise by all represents present and conference organizers.
Next annual ceremony of international science and technology association will be held in Tallin, the capital of Republic of Estonia.