TusPark Co., Ltd Signs Strategic Cooperation Agreement with Gaoxin District, City of DaqingPrint
Post Time:2012-01-17来源:
On December 29, Tsinghua Science Park Co., Ltd signed a strategic cooperation framework agreement on building a life science park with Gaoxin District, City of Daqing. The agreement includes building an incubator base for the life science industry, a life science health center, and a biological high-end community.
Mr. Xujing Hong, the president of Tsinghua Science Park Co., Ltd signed the agreement and was received by Mr. Han Xuejian (Standing member of CPC Heilongjiang Provincial Committee, Secretary of CPC Daqing Municipal Committee). It only took two months for the agreement to be reached since the initial meeting between the two parties, which showed the sincerity and high efficiency of both sides. All those concerned will keep this pace in future construction of the Daqing life science park, aiming to build it into a focus place of Chinese life science industry, a model unit of local industrial innovation as well as a development base of emerging industries. Xia Lihua, Zhang Lijun, Shen Hongyu, Ren Guisheng (leaders of Daing municipal government) and Yang Yanbin (Director of Gaoxin District's management committee) were present during the meeting, too. Wangji Wu (Vice Chairman of Tsinghua Science Park Co., Ltd), Xie Bin (Chairman of the Board of Tsinghua Science Park Investment Company), Wang MIngren (General Manager of Tsinghua Science Park Investment Company) and Zhang Hongmin (Assistant to the President of Tsinghua University Tuspark Research Institute) also attended the agreement-signing ceremony.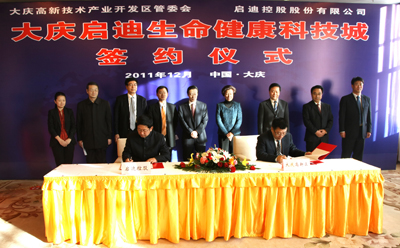 The Daqing municipal government and the management committee of Gaoxing District have attached great importance to the Daqing TusPark Life Science Project, which is hoped to attract high-end science and technology institutions, tech-companies and talents to gather, incubate patents in the field of life science, focus on the R&D of biological medicine and medical devices, application of electronic medical facilities and featured medical center. It's aimed to grow into a base that integrates R&D, incubation, production and promotion of life science tech results. The medical center will differentiate its focus from that of local general hospitals, specialized hospitals and medical service center; instead, it will set up a sub-health physical examination center, a recovery center, a hot spring/Chinese medicine medical center, an emotion-oriented medical center, etc., focusing on the services for those who want to prevent diseases or are in a sub-health condition. Meanwhile, by leveraging the resources of the science park, the research institutions and the medical centers, the project will also build a high-end elder community themed "Life, health and family" to bring more benefits to the city's residents.